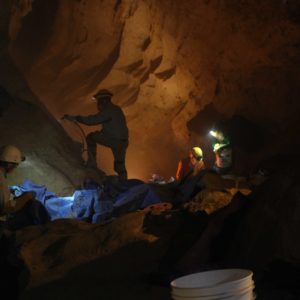 In this episode Cameron interviews Dr. Sarah Truebe, the cave resource manager at Kartchner Caverns State Park in Arizona. This episode was recorded underground at the end of a day we spent cleaning graffiti out of this popular wild cave.
We discuss how Dr. Truebe got started caving, how some cave research is performed, and some ethics of destructive testing methods in sensitive cave environments.

Show Notes:
3:00 Sarah talks about her experience on her first caving trip (right in the cave where we were sitting!) and a bit about cave safety
5:00 White nose syndrome is discussed, a fungal disease killing bats across North America.
10:20 How Sarah got interested studying the monsoon at a young age, and how that turned into studying paleo climate in grad school.
20:20 What are the ethics of paleo climate studies in caves? How can we study delicate and irreplaceable features?
35:50 After a cave (like Kartchner) been studied for 50 years, what is left to do and monitor long-term?
40:00 CO2 variations in caves
45:20 How people can submit a proposal for a cave study that could potentially be approved in a cave like Kartchner.


Links:
As always, if you are doing interesting research you want to talk about, or have any interesting topic ideas, please get in touch and we may be able to do a show about it.
Thanks to Ray Keeler for organizing the Peppersauce Cave Cleanup Project event that this interview was recorded during.
Podcast: Play in new window | Download
Subscribe: Apple Podcasts | RSS