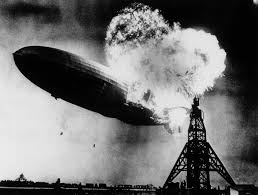 In Episode 5 – Old News, we discuss "space" tourism balloons (Hindenburg), photonic crystals applied to photovoltaic solar cells, and million year data storage in fancy Q-R codes (iPods for immortal elves?).
2:30 we "jump right into it" (after a few minutes of chatter…) with the New York Times' Article: "Balloon Ride to Offer Expansive View, for a Price"
4:45 this digresses into a discussion of my and chase's senior design project… designing a variable-lift dirigible.
12:45 some Hindenburg talk!
13:45 Helium has some sustainability concerns.
22:15 we call greg to join us in discussing "High Temperature Stability in 3D Photonic Crystals Could Advance Solar Thermophotovoltaic Approach" (the paper is HERE)
23:00 some complicated semiconductor physics talk (sorry!)
29:00 getting to what this research actually means, finally.
44:45 Remembering to give the authors credit
45:45  Greg is in a rush for this last story,  Million Year Data Storage  (with the free preprint paper HERE)
49:45 I said it was like a record, which would be correct, if records were QR codes…
52:30 the Ahreneus Equation, used for aging, is explained!
54:15 Chase never used the Ahreneus equation at work?
58:00 iPods for elves.
Intro:  Open – Crying (Get Olde)
Song 1:  Where do they make balloons? (They Might Be Giants- No!)
song 2:  Love like a sunset (part II) (Phoenix – Wolfgang Amadeus Phoenix)
Outro:  Dreams are Maps – The Wild (Dreams are Maps)
Podcast: Play in new window | Download
Subscribe: Apple Podcasts | RSS